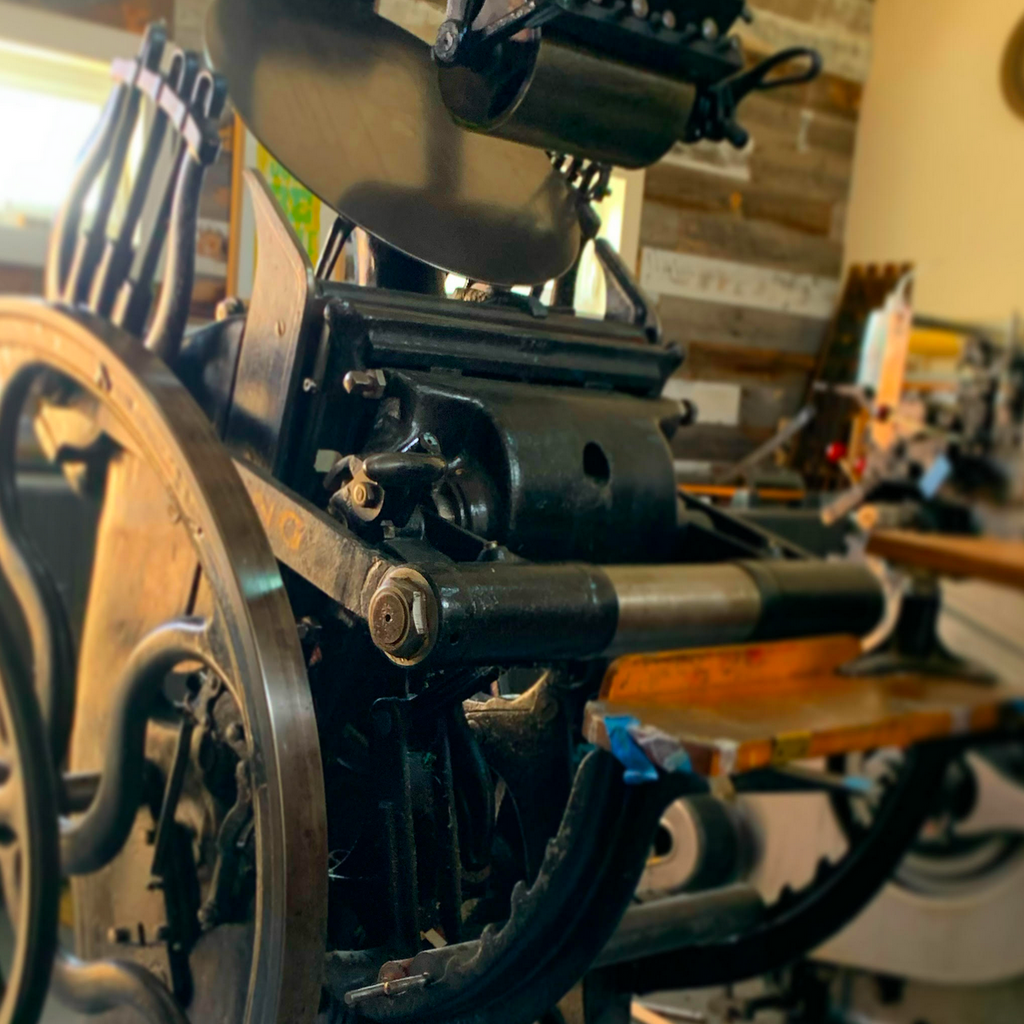 This is my first press in which I could print commercial-grade work. It was manufactured around 1923 or 1924, but the records are very sparse and letterpress historians are few and far between to confirm the history of smaller companies like Golding. More widely known for platen presses is the Chandler and Price company and also, Heidelberg.To get the best approximation I contacted Steve Sax and this was his reply:I got out the original serial number log book to check. It turns out that the last entry for the Jobber 7 is 3763, with a date around 1917 or 1918....
---
There are 2 presses I need in my shop and this here Heidelberg Windmill is one of them.  I am currently considering acquiring this press. Though it means the very difficult almost paralyzing decision to swap out my current, beloved press to make way for this bad boy. This one was made the same year I was born making me err on the side of serendipity. I'll let ya know if I decide to pull the trigger... 
---
• Press
I was honored to be featured in the Winter 2016 issue of 5280 Home for some of my letterpress work, along side several other great local printers and artists.  If you were to ask Brian Wood what's most important to letterpress designs, he'd tell you it's all about the font. Since his initial foray into the medium four years ago, Wood has collected 30 antique wood types and transformed his second-bedroom hobby into a full-fledged business in Lafayette. Wood works solo and splits his time between custom projects and his greeting card line, which showcases his minimalist style, muted color...
---
• Press
From a feature on Boxcar Press // February 8, 2016:  Lafayette, Colorado is an award winning small city where Dogs & Stars letterpress shop calls home.  This "Best Place for Young Families" and "Top Fifty Best Places to Live" community is an inspirational place for the edification and admiration of letterpress printing. Brian Wood of Dogs & Stars is banking on that to advance his craft in his new workshop. Getting into letterpress has evolved over a ten year period for this graphic designer.  His early influence was old letterpress posters with inspiration drawn from wood type.Click here to read the...